Review of Algonquin Park:  Canisbay Lake
I got the chance to go to camping for a weekend.  This would be my second time camping at Algonquin park this summer, and I'd like to document the experience so each time I go it gets better.
The drive:  4/10
This time of year traffic is bad, so what was calculated to be a 3.5h drive from downtown Toronto turned into  a 5 hour drive.  After hearing the 400 was packed, we decided to go through some of the country backroads instead. We got stuck on the Northbound rush out of the city at 3PM, but it looked like traffic was heavy since about noon.    I think its safe to assume that everybody is heading is either taking Friday afternoon off, or heading up to cottage country.

About 10 minutes before you enter Algonquin on highway 60, there is a Walmart and a Dollar Store on the way at highway 60 and 11 (C on the map above).  Between these two places, you should to buy anything you forgot to pack before entering the park.
There's also an East Side Mario's that we ate at on the way back.  I got a free desert and felt like a kid when the staff sung me happy birthday :).
Camping and the Camp Site: 7/10
We had two camp sites maxed out with 6 campers each.  We stayed at campsite 42 and 43, which is in the middle of the loop.   The camp sites were clean and large enough, but a little too close to the other sites.  At 11 o'clock at night the park ranger came and told us to shut up because he could hear us from the entrance.  Next time I would suggest picking a more secluded camp sites such as 126-128.  This is next to a water fountain and outhouse, but farther from the beach and showers.  This would give our large group a little more space to be loud, and also its in a RADIO ON zone.
Two people in a 6 person tent gives you a lot room to move around.  We had an air mattress, which made sleeping MUCH more comfortable than last time.  I easily slept through the night, except for the first night when a raccoon decided tried to get into our tent, and when the wolves were howling at each other.
We also forgot a few vital things, such as a can opener.  If you think you can open a can of beans with a hatchet, you should probably bring a raincoat.  We ran out of bowls, so we improvised by using aluminium foil folded into a bowl.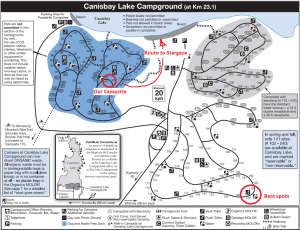 Stargazing: 9/10
The beach was a 10-15 minute walk from our campsite using a shortcut through the woods to the beach.  When we got there it was  clear and great to look at for about 20 minutes, then the clouds came and made everything hard to see.  Some of us lay on the wet sand, and some of us sat on a wet bench.  Next time I'd either bring a towel or the folding chairs.
Portaging: 8/10
Portaging was the highlight of the trip.  The route we took was long and challenging, but doable for inexperienced relatively-fit portagers.  This 12-hour route took us through 39.1km of lakes, 4.2km of portages (12 portages), short 100m puddle jumps, over beaver dams, and through difficult to maneuver river passages.  We left the Portage Store at 8:30AM, and got back at about 8:00, just before sunset.
All 12 of us went on this trip, so big groups are doable but some of the portage spots got a little bit crowded with 4 canoes.  We portaged our 3 man canoes with 2 people; one at the front, one at the back.  Portages ranged from 110m to 710m.   I carried the front of the canoe by resting the nose of the canoe on my shoulder; whereas the carrier in the back would put the back seat on his shoulders/traps.  The lifejackets can be used as makeshift cushions and allowed me to shoulder the canoe without pain for about 250m.  The canoe isn't heavy, but it does hurt after awhile.  The 710m portage was painful, but doable without rest.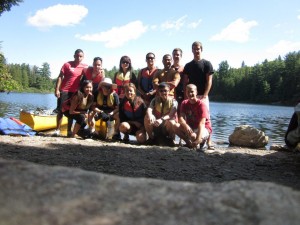 There is a 20ft high cliff an hour from the rental store.  We tied off the canoes at the shore and went down a cliffside path. The water in front of the cliff is about 2m deep, which makes is safe to jump off.
We didn't see much wildlife.  We saw some crows, loons, and some ducks.
Everyone tried to bring at least a litre of water, but we still ended up running out .  Getting desperate, some of us tried drinking lake water without getting diarreah, but we'll have them checked for parasites when we get back.  Apparently its okay sometimes but not all, and in the middle of the lake away from traffic, fishing, swimming etc  is generally the best.  Drinking water near a beaver dam is a no-no.
We packed a little more than 2 sandwiches per person, but the cheese singles melted and became visually unappealing.  We only had 8 peanut butter sandcastles which went first.  Apparently some campers like to pack 'suicide sandwhiches', which consist of peanut butter, jelly and cheese wiz.  Yummy.
Summary
– Traffic was bad both ways
++ I feel like I proved something during that 12 hour portage trip
– Forgotten items: can opener, dishwashing tools, area light (non-directional lamp)/head mounted light, hand broom, extra underwear, jacket
– Kicked a rock coming back up from cliff diving
– Sunburn on legs and arms
+ Got a free dessert at East Side Marios
=As expected, there are animal disturbances
 Trip Rating: 8/10