How to rent an apartment in Waterloo
I'm moving to Waterloo and plan to stay there for an entire 2 years!  This guide should pretty much be applicable to renting anywhere.
Step 1:  Find a place
I used the Waterloo renters website.  Its quite good as has a map and a format which would be easy for most renters to fill out.
Step 2:  Arrange and visit the place
Call the people.  I am amazed at how judgemental I am just by talking to someone on the phone.  I talked to this one lady with a really strong Chinese accent and immediately decided that this was not going to be the place for me.
So I called a few places and booked viewings all on the same day.  I made 5 viewings with 1 hour gaps in between, but in reality you probably only need 30 minutes between appointments.  You get a pretty good idea if you could live in the place after about 5 minutes of looking around.  I went to one house with a live-in landlord, basement suites and a shared kitchen.  It definitely was the best maintained, cleanest, and had the best furniture, but I really wouldn't want to have to share a kitchen with another family.
I decided on Sunnydale Place.  It's a 15 minute walk from UW campus (engineering/optometry side), has 3 person townhouses, and free parking.  Here are some pictures of my new unfurnished place.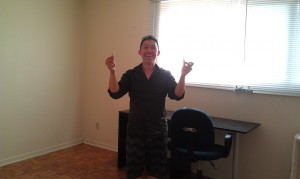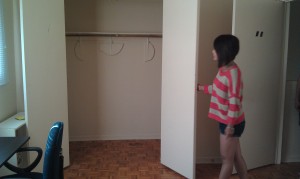 Step 3:  Negotiate with landlord
You should talk to the landlord to see if you can get deals.  Our contract only has 1 parking spot, but they told us we could have 2 if we wanted.
Always ask if the place is furnished!  Apparently I could have requested a queen size bed if I specifically asked for it.  Unfortunately I missed the boat and ended up with a single.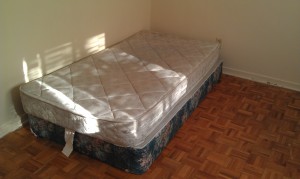 Step 4:  Arrange deposits
Our landlord wanted the last months rent and key deposit immediately to secure our place.  He accepted email money transfer so this was relatively painless.  With our contract we were to submit a cheque post dated for our first month of rent as a minimum.  I will also need to give him a post dated cheque for every month thereafter until the end of the contract; in total 10 more cheques.  I don't ever write cheques, so I'll have to order them and give him the rest of them to him when I actually get to Waterloo.
Step 5:  Arrange utilities
The landlord provided us with a list of phone numbers that we could call.  Included on this list are:  electricity, hot water heater rental, landline phone, cable, and high speed internet.  We pay for hot water rental is $30 a month up front per person, and whatever we don't use we will be refunded at the end of the year.
The landlord said that budgeting about $60 a month per person should cover all utilities except for water.  We also don't have air conditioning, so that will probably save a lot on the electricity bill.
In our case we had a nice pamplet with all of the necessary phone numbers prepared for us.  Setting up the utltiles (electricity, hot water, natural gas) was a relatively easy 5 minute phone call.  Make sure you have a lot of cash available for the first bill, because the utilities companies each charged me an extra $150 deposit, and a $30 account set-up fee which will be tacked onto my first bill.
We didn't bother with a landline or cable.  I hope I'm not regretting the lack of cable in the future…
Step 5.5:  Change Cellphone Number (?)
Many Waterloo students who go on co-op do not change their Toronto cell phone numbers to a Waterloo number.  I am on Rogers, which has Canada-wide roaming. This means I can use my data and voice plan anywhere in Canada without incurring  extra charges.  In comparison, long distance is extremely complicated, so I have prepared an example.
Consider the following example:  assume person T has a Toronto number, and person W has a Waterloo number.
Scenario 1:  Person T is in Toronto and and Person W is in Waterloo.  Person T calls person W.  This is considered long distance.
Scenario 2:  Person T and Person W are both in Waterloo.  Person T calls person W.  This is considered a local call and no long distance charges would be applied.
Scenario 3:  Person T and Person W are both in Waterloo.  Person W calls person T.  This is considered long distance because they are calling Toronto, which would be long distance.
In conclusion, to avoid receiving long distance charges, get a long distance package!  Yes, you may cause your Waterloo friends to incur charges when they call your Toronto number, but that isn't your problem is it?  Alternatively, you could always text without fear.
Step 6:  The physical move
How the hell am I going to move 25 years of accumulated crap 1.5 hours away into a tiny room?  By minivan of course!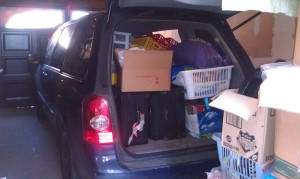 Putting the seats down in the minivan actually allows for a lot of space.  A quick tip for packing the van is:  make sure that you adjust the seat before you start packing the van.  I didn't, so I was stuck on my mother's ultra-back support seat settings the entire 90 minute drive.
We also considered a moving truck and making single move, but most companies charge a small base price, then a surcharge per kilometer.  After adding the price of gas, it generally isn't worth renting to save the extra trips.  Save the rental trucks for big moves, like furniture.
Step 6.5:  The identity move
So now that I don't live in downtown Toronto, there are certain things that can become a lot cheaper; namely car insurance.
I was originally using Cumis for car insurance, and had a yearly premium of $3600. I switched to TD Insurance Meloche Monnex, and am now paying a little over $1000  annually.  A quote from Cumis just factoring in just moving location and getting older dropped my insurance to $1900, still almost double what I am paying at TDMM.
Now there are a few factors leading up to my cheaper insurance:  I just turned 25 which puts me in a lower risk bracket; I'm moving from gridlocked downtown Toronto to open highway Waterloo, I just graduated from University of Toronto, and I've just started my P. Eng designation.  TDMM gave me really low rates JUST because of the P. Eng.  Even if you factor in the annual $220 fee for the P. Eng licence (which is also tax deductible), it's still cheaper.  Get your EIT if you are a graduate just for these bonuses!
Another major bonus is that when I bundled home and auto insurance, I got a discount which basically made the home insurance free.  This lets me build home insurance history for free.  Horray!
Step 7:  Settling in
This step I haven't completed yet!  I assume I'm going to have to find a place to buy groceries, or at least a place to get food cheaply.  Not to mention I have to clean the house and move furniture around.  To be continued…