This is a continuation of HOW TO EMIGRATE TO THE US (FROM CANADA WITH AN ENGINEERING DEGREE).  This post will assume you have already obtained your TN visa.  I'll talk about the challenges obtained with settling in.  Getting an SSN takes 2-4 weeks; 4 weeks if you have a name so long that it won't fit in form (THANKS PARENTS.).
Things that don't require an SSN

Opening a bank account
Renting a place
Opening a utilities account

Things that require an SSN

Getting paid
Health / Vision insurance
Drivers licence
Car licence plate
Credit card
Opening a bank account
Like most accounts that don't require an SSN, you need 2 pieces of ID.  I brought my passport and drivers licence and opened an account over lunch.  I was late back to work because it took about an hour longer to process due to my 'resident-alien' status.  I opened an account at Chase (which many people recommended I avoid) because it was the closest bank.  I've already started looking at savings and retirement funds, but I might be jumping the gun because I should probably pay off my debt first.
Renting a place
Renting a place also does not require a SSN, just 2 forms of ID.  They do a background screen, which may potentially take longer because they pull up your records from other countries.  I looked at a total of about 15 different apartments.  Despite everyone thinking Detroit is dirt cheap, rent in desirable neighbourhoods is still considerably high.  Here is a list of different neighbourhoods I had considered living in:
Troy: $675-$1100/mo.  The nice apartments were 1BR, 700sqft, newly renovated, carpet floors, new appliances and hella expensive.  The cheaper places were literally walking distance from work.  It was a decent place, but I wanted a place with wooden floors.
Madison Heights  (1BR apartments in low, low, and highrise apartments) $700-800.  My co-workers advised against living in Madison heights because they think it isn't a nice neighbourhood.  I honestly can't really tell the difference.  There are a few Chinese and Vietnamese stores located on John R Road.
Royal Oak is supposedly the happening place in Detroit.  They have a walkable downtown area with nice sidewalks and streetlamps.  Most young professionals are moving into that area, and thus it was really hard to find a vacant apartment.  Most places had 2-3 month waiting lists.  I had found a craiglist ad to roomate with 2 other engineers in a 3 bedroom 1 bathroom house for $500.  I probably would have stayed here if the house owner didn't have a cat.
Southfield. $500-600 for 1BR.  This was the pricepoint that I was trying to aim for, but Southfield is considered one of the rougher neighbourhoods in Detroit.  Most of the locals recommend living north of 8 Mile Road.

Fun fact:  8 Mile Road has a TON of strip clubs on it. I drove on it at night, and only the streetlights on the South side light up.

Ferndale is supposedly the 'hipster area' of Detroit.  I walked around the area yesterday, and I like it.

Fun fact:  Ferndale was the first city in Michigan to have an openly gay Mayor.

Downtown (Eastern Market). $700-$900.  I had considered getting a studio apartment in the same building as Fiona.  The building had recently been purchased by a Canadian real estate company and was undergoing renovation.  I thought the place was really nice, but the commute was a bit long (22 minutes without traffic).  During rush hour, it would be 30-40 minutes.
Clawson.  This is the place I decided to live in.  It's only a 5 minute drive to work, a 10 minute drive to Royal Oak, and is considered one of the nicer neighbourhoods in Metro Detroit.  At $750, I'm renting a 'houselet' – a 1 bedroom house.  It's more akin to a 1 bedroom townhouse.  I don't believe anything like this in Toronto exists.
In the end, I learned what I really was looking for in an apartment.  It doesn't have to be large; I was OK with a 480sqft studio apartment.  However, I wanted wood floors because they are easy to clean and won't flare up my allergies.  A nice bathtub was a MUST.  New kitchen appliances were optional.  I would prefer a 2nd floor apartment (I feel safer there?), but will compromise with a first floor.  I wanted my commute to be less than 20 mins.  I wanted all this for under $800/mo.
Electricity and Internet
So far, I've opened 2 utilities accounts: electricity and internet.  Electricity is handled by DTE energy, one of Detroit's biggest employers.  Internet is handled by COMCAST, apparently one of the USA's most evil corporations.  I didn't have an SSN number, so I had to drive to midtown Detroit to the DTE office to open an account.  Along the way, I saw this: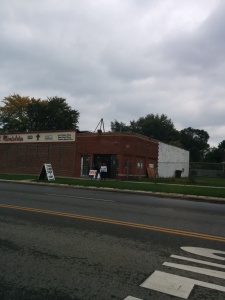 It was surprisingly easy to open an account at Comcast.  However, it seems like they are really big and don't communicate much between divisions.  I opened an account and scheduled for someone to come install the cable.  I had a second person call me and ask if anyone was still living there, because there was still and account associated with the address.  They also said that I could install the cable myself by picking it up from one of their stores.  Just as I was about to go pick up the modem, a third person called and told me that it was required that I get the cable installed.  I'm thankful I listen to the last person, because the cable guy took about 90 minutes and a lot of swearing to get my internet up and running.
I'm that much closer to being an American.  Just kidding.  I'm going to permanently be a resident alien.