I finally moved permanently into my Waterloo apartment!  So far things have been… interesting.  The apartment doesn't have as much thermal mass/insulation as my house in Toronto, so it changes temperatures very quickly.  I'll usually be sweating during the night, but freezing just when it's time to wake up.
I managed to move pretty much everything with two van trips.  Here is a comparison of my old living conditions, and my living conditions now: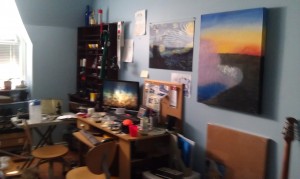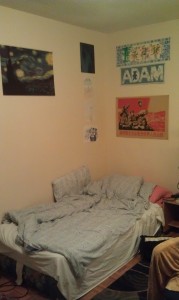 As you can see I took a lot of my posters to cover up my walls.  The landlord agreement says that you aren't allowed to hammer nails in the walls, but after looking around I managed to actually recycle some of the holes.
As for food, I've managed to actually do most of my own cooking.  I got a bunch of cucumbers and eggplants from Thuy's mom, but I've never actually cooked with these in combination.  Here is my result: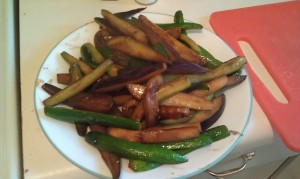 Stir fry the eggplant first, then the cucumber, then add sauce.  The sauce was whatever I found in the fridge:  soy sauce, sriracha, canola oil, pepper, kraft sweet and sour sauce.  The taste and texture was pretty good… on most of it.  The eggplant skin was somewhat more fibrious than I expected.  I think this dish was actually more tasty as microwaved leftovers.
The closest grocery store to my house is a Sobey's, so when scoping it out earlier this week , I bought 8 Michealina's frozen food packages because they were on sale for $1.  I just realized that each of those packages are only about 300 calories, so it is definitely not enough to call it a meal.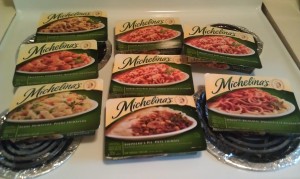 Two days later I needed groceries again, but Sobey's is expensive as hell, so I tried the (much farther away) Zehr's.  Zehr's is a brand of Presidents Choice, and is about as expensive as a Loblaws.  I'm glad I chose to go Zher's because I found out about Conestoga Mall, which should satisfy almost my every need.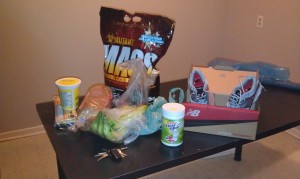 I got some tomatoes, bananas, cheese and bread… mostly breakfast stuff. I also managed to buy a much needed new pair of NB running shoes on clearance for $50.
I'm worried about my surgery in January, so I've decided to start eating protein supplements to gain some weight so I'll have something to lose during the time I am healing.  I went to Popeye's supplements and asked what would let me pack on the pounds as quickly as possible.  He reccomended mutant mass, if I didn't care if it was "clean" mass.  I bought a fibre supplement as well to throw into the mix.
Living by yourself isn't bad.  It just requires some practice.